MacDefender / MacProtector
Also known as MacProtector, MacSecurity, MacShiled and others and discovered on 2011 by Intego, this is a rogue AntiVirus program (Fake AntiVirus) for macOS. FakeAV is a program also known as ScareWare which displays false message alerts on the victim's machine about threats/malwares found on their system. In order to remove the threat, the program asks the user to purchase a license for it.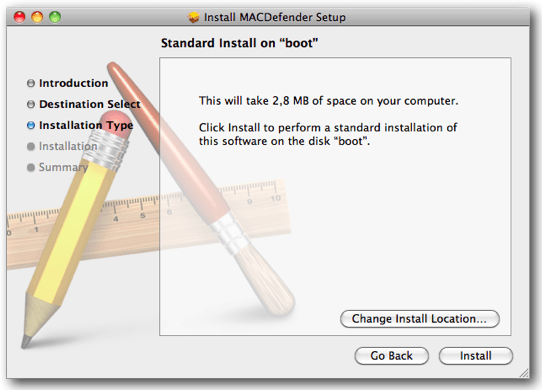 Source Intego
No administrator password is required by MacDefender on installation. In addition, MacDefender might download additional payloads from the server. It may also open browser windows and visit porn websites in order to scare the victim into thinking he has been infected by alternative malware.Apple released instructions on how to avoid/remove MacDefender malware.
Links:
Samples:
fc96284f94b347e84c2ec188a466eab9e53341a76d6ba03215012395391648aa